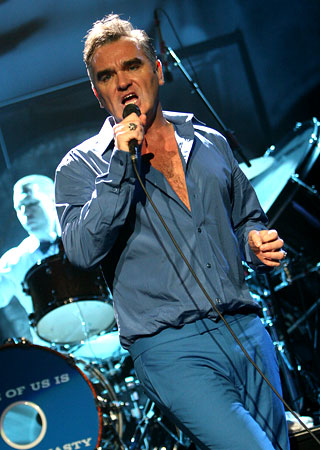 Taken from

CCN.com

:

"London, England (CNN) -- British singer

Morrissey

was hospitalized overnight after reportedly collapsing on stage during a concert, medical officials said Sunday.



Morrissey was discharged about 1 p.m. (9 a.m. ET) on Sunday, "much improved," said Great Western Hospital manager Teresa Harding.





"He was admitted ... as a precautionary measure," she said, refusing to reveal anything further about his condition or the reason he was hospitalized."



Scary thought. We've lost too many entertainers this year -- we can't afford to lose another. But I imagine this was just a fluky thing. The Moz could have just been exhausted. I'm sure he's in good health; I mean, he's a vegetarian, anyway. Those people always seem to be in prime condition. Anyway, he's a workhorse and has plenty of plans and concerts coming up, so he'll be in tip-top shape for all those events. The man is still kick ass. Best wishes.


Morrissey Collpases






Morrissey

-

"Still Ill"