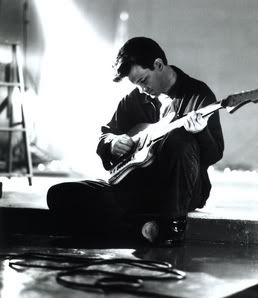 Remember this guy? Sure you don't. His name's

Chris Isaak

. He had that tune a while ago..."Wicked Game"...you know (

"Now I--- wanna fall in love"

). Definitely on early 90's VH1 formats and maybe even 120 Minutes. Okay, so apparently, he's done some music show-type hosting in the past, like the short-lived '02-'05

"Chris Isaak Show"

on

Showtime

. Apparently, no one watched that. Sad. But, there's hope for this has been again: another show! It's the year of the comeback! Again! This brings my tally up, to like, 3 now.

Isaak is back with a glimmering ray of hope for music on TV. Not music videos, though. Boo. However, this is more of an interview type session deal. His show is simply titled,

"The Chris Isaak Hour"

on

Biography.

Biography? I don't think most Americans even get that network, let alone watch it. So once again, this will fall on deaf ears (and blind eyes). But this show is more of an in-depth analysis of artists, so I guess Bio was a good choice of network. Hell, it's probably the only one who gave it a shot. Any who,

Bill Corgan

of

Smashing Pumpkins

will be appearing on the first show, playing some tunes and talking to the Is-man. He's on the bill among other producers and no names. Oh! Also, 3-time Grammy winner Trisha Yearwood, whoever that is. So that should be interested. Something to watch if you're bored and craving music on TV (like we ALL are). The show premieres tonight on Bio at...10 PM! (Had to do some research there).


I kind of forgot about this video. But this girl is slammin'.