This is copied directly from my Facebook note.
Why do twice the work? It's been a tough year!


It's the end of the year, which means it's time for end-of-the-year lists. So, here's mine for the

Top 30 Songs of 2008

.


30. Gnarls Barkley – Run (I'm A Natural Disaster)

29. Beck – Gamma Ray

28. My Morning Jacket – Touch Me I'm Going To Scream (Part 1)

27. Fleet Foxes – White Winter Hymnal

26. The Ting Tings – Shut Up And Let Me Go

25. Noah And The Whale – 5 Years Time

24. Vampire Weekend – The Kids Don't Stand A Chance

23. Death Cab For Cutie – Long Division

22. Tokyo Police Club – Sixties Remake

21. Bloc Party – Letter To My Son

20. MGMT – Electric Feel

19. CSS – Rat Is Dead (Rage)

18. Bloc Party – Ion Square

17. M.I.A. – Paper Planes

16. R.E.M. – Man-Sized Wreath

15. Kings Of Leon – Sex On Fire

14. Radiohead – Jigsaw Falling Into Place

13. Death Cab For Cutie – Your New Twin Sized Bed

12. Bloc Party – One Month Off

11. Common – The People

10. The Dodos – Fools

9. M83 – Graveyard Girl

8. Does It Offend You, Yeah? – Dawn Of The Dead

7. Death Cab For Cutie – Cath…

6. Tokyo Police Club – In A Cave

5. Radiohead – House Of Cards

4. Santogold, Julian Casablancas, & N.E.R.D. – My Drive Thru

3. R.E.M. – Hollow Man
2. Radiohead – Videotape
1. Bloc Party – Signs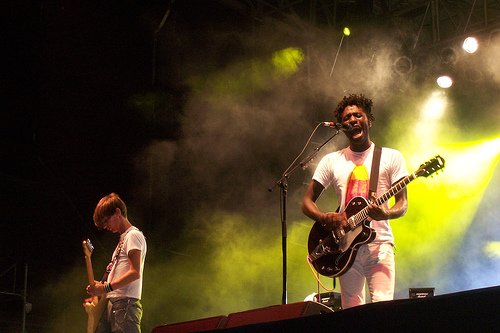 (Shit WB, I mean, CW, way to pick this one up! After viewing this program, I claimed that this was probably an awful program. Hot girl, though.)
Agree

of

disagree

?


There were a ton of other tunes I should've given a shot. I know so many bands put out good records with great tracks on them:

Hot Chip

,

She & Him

,

Hercules & Love Affair

,

Portishead

,

TV On The Radio

,

Bon Iver

,

Foals

, and so many more. It was hard to get to all of them. It was equally hard to pull my head out of the 80's alternative scene, which I've found myself comfortable exploring for the past year and a half. Oh well.
Albums coming later. Peace.